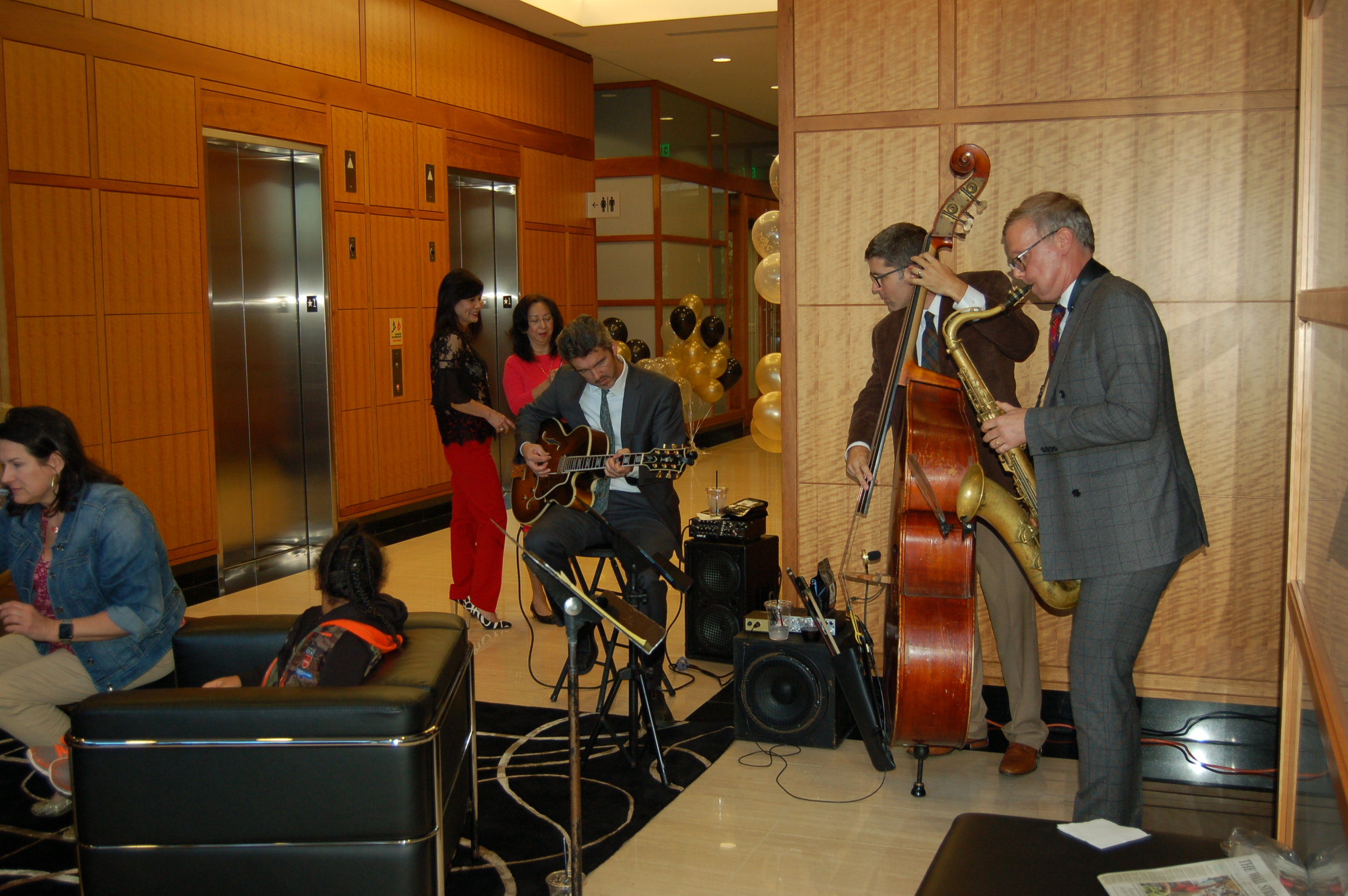 ULI GRADINGER BIOGRAPHY
Uli Gradinger was born and raised in Mainz, Germany. His dad owned and ran the family blacksmith in the 4th generation. At the age of 17 he moved to Paris, France, where he got the Jazz bug and started playing the saxophone in the Paris Metro.
It is during that time that he was introduced to Jazz music. He was deeply moved by the richness of expression and soul found in the Jazz music he discovered through artist such as Dexter Gordon, John Coltrane, Chet Baker, Archie Shepp and others. Now his formal training as a musician began:
1989 - Jazz lessons at Arpej, a local jazz school in Paris, France.

1990 - Classical saxophone study at the Conservatory in Hamburg, Germany. He attended jazz band with Carsten Glinski, choir, saxophone quartet, theory, pedagogic and music history classes. He began playing with piano player/composer Jan Fedderssen in local bars and restaurants.

1992 - Played music across Germany and Europe with the Hamburg Showband Tatara.

1993 - Accepted to the Hanns Eisler HfM Berlin for jazz studies and he was privileged to study under Mackey Gaebler, Gregoire Peters and Gebhardt Ullman.

1995 - Studied with John Ruocco in Den Haag, Holland at the Koeniglicke Conservatory Den Haag for two years. Additionally, he attended master classes with Barry Harris and played with the Rachel Gould ensemble.

1997 - Began booking and playing gigs in and around Berlin.

1999 - Bachelor Degree from Hanns Eisler HfM Berlin in Music Performance.

1999 - Active with local jazz scene in Berlin. Played with Henrik Walzdorf, Rudi Mahall, Ulli Jennessen, Alex von Schlippenbach, Giorgio Crobu, Tal Balshai, Kale Kalima, Heinrich Koeberling and M. Griener among many others.

1999 - Founded an organ band with Ulli Jennessen (drums), Tal Balshai (organ) and Giorgio Crobu (guitar). They played local functions and corporate events, they also recorded a demo album. You can listen to some samples here: Organ Quartet Berlin, 1999

2000 - Live recording with Alberto Falco's Project: Don't Look Back, at the Schlot Jazz Club, Berlin, Germany.

2004 - Moved to Shanghai, China and started playing the jazz circuit. He played about 200 gigs in his one-year in China.

2004 - Recorded his first album in Shanghai with original compositions; Hopes, Hymns and a Little Bit of Swing, Shanghai 2004

2005 - Played daily with Aaron Lordson a R&B/soul singer/songwriter in Palma de Mallorca and Barcelona, Spain.

2006 - Wrote and recorded a R&B song in the home studio of a friend of his in Berlin, Germany. The song is titled, Hit.

2007 - Toured Germany as a substitute saxophone player with the Circus Roncalli.

2007 - Wrote the music for a Jazz competition for the city of Frankfurt, Germany. It was recorded with Martin Lejeune (guitar) and Ulli Jennessen (drums) in Frankfurt. You can listen to the album here.

2007 - Studied with a variety of Jazz musicians in New York City.

2010 - Played with the Times Square Church (TSC) worship band in the horn section until 2016. He recorded on the fifth CD in the Live Worship Series, There Is No One Like Jesus, 2014.

2012 - Guest on the podcast, TSC Music, Music With a Mission. You can listen to the interview here.

2016 - Uli moves his family to Durham, NC.

2018 - Weekly gig with Kevin Van Sant (guitar) and Grant Osborne (piano) at the Angus Barn in Durham, NC.